Pulse Jet Dust Collector
---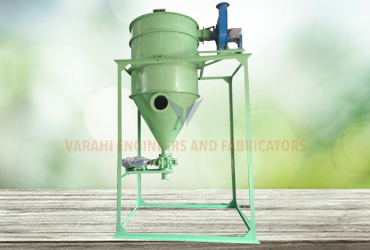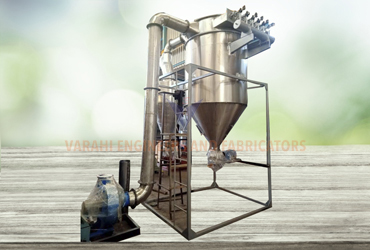 Varahi Pulse Jet Dust Collector is available in different sizes. It is a selectable feature of our standard product, it can design upon customer requirement.
PJDC Size and construction can be design based on customer input (DATA) like Dust load, material Fineness, Air flow, material temperature, moisture, efficiency, type of
application, outlet emission and site dimensions.
It is available in different like circular or square housing, Top OR side removal, Body made from different material.
Selection of Filter bags fabrics is done base on chemical characteristics of dust, temperature, antistatic charge and other factor. Fabrics are like Polyester, Polypropylene, cotton
etc.


Use of Pulse Jet Dust Collector
Varahi Pulse Jet Dust Collector is useful to clean air by separating dry powder/dust from it. It is very much useful to filter air comes from grinding machine as well as separate fines either useful or as waste. Dust collector collects very fine material and release clean air in atmosphere.

About Pulse Jet Dust Collector
Dust-laden air enters in Varahi Pulse Jet Dust Collector. Air is either with positive or negative pressure depending upon system. Velocity get reduce after expansion inside hopper. Due to low velocity bigger dust particle got settle by gravity in hopper. If diffuser is provided nearer at inlet, will absorbs velocity impact. Fine particle remains in air will move upward (in beg housing section). Clean air passes through filter bags to clean air side where fine retain on outer surface of fabric. Both side pressure difference got increase when dust increase on fabric. Filter begs need to clean for minimize pressure difference. Normally closed solenoid valve actuated by signal from remote sequence timer. Pressure got decrease in the tube between solenoid and right angle diaphragm valve after solenoid valve open. It causes diaphragm valve to open permits a momentary air jet from air supply. High velocity air through pipe comes out from nozzles inserted inside the venture. Pressurized and high velocity airflow inside the filter bags causes controlled inflation of bag. So, that Accumulated dust is dislodge and collected in the hopper. Clean air comes outside from bags towards plenum. Sequential timer can operates on time sequence or by measuring pressure difference. Separate line of blow tubes and valves continuously clean each raw of bag by automatic operation. Filtration efficiency depends on type of filter bag, efficiency, frequency of intensive cleaning. Filtration cycle should select practically, so that most of filtration area is available clean most off time.

About Pulse Jet Dust Collector Design
Varahi Pulse Jet Dust Collector is having many filter bags. Filter bags and other assembly enclosed in a metal housing. It consists plenum at top, bag housing at middle and material collection at bottom section. Plenum section is holding air pipes/orifice nozzle and supports air receiver tank, blow tubes and solenoid valve. Bag housing is separated from plenum by tube sheet. Bag assembly stays inside beg housing which are clamped with ventures, bag retainer, filter bags and clamps on tubes sheet. Material collection hopper at bottom is with inlet, diffuses and outlet. Sequential timer, air pressure gauge, and blower fitted on frame. Rotary air lock valve need s mount at outlet of PJDC to discharge powderand prevent air leakage.

Options
Circular or Square housing.
High filtering area for high dust and air load.
Bag removal from Top or side.
Different casing material construction.
Various fabrics forfilter bags like polypropylene, polyester, cotton etc.
| Model  | BL. HP |
| --- | --- |
| VPDC-20 | 2 |
| VPDC-25 | 3 |
| VPDC-30 | 5 |
| VPDC-48 | 7.5 |
---
Rotary Valve
---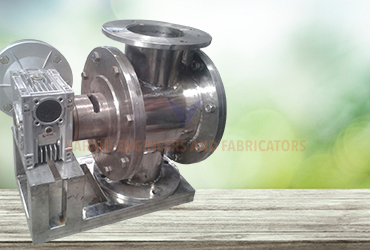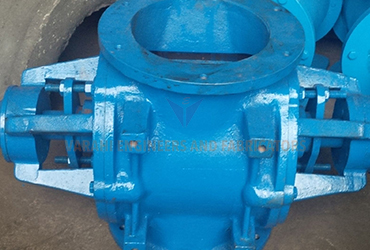 Varahi Rotary Air Lock Valve range and specification:
Varahi Rotary Air Lock Valves are available in range of Rotor dia 100mm to 450mm. Discharge volume 0.5 M3/hr to 100 M3/hr can be achieved.

Use of Rotary Air Lock Valve:
Varahi Rotary Air Lock Valve for discharge dry Powder, solids and Granules. It is for uniform discharge or regulate feed rate from silo. Designed to place between equal of different pressure system. It is also useful to feed material into pneumatic system with minimum air leakage.

About Rotary Air Lock Valve :
Material is received from top in Rotary Air Lock Valve. Fills volume between rotor vanes and discharge at bottom side. Material is discharge without air leakage. It can be mount directly on bottom flange of silo of outlet spout.
Rotary Air Lock Valve design:
Rotary Air Lock Valve consists flange mounting type housing, rotor and rotor shaft. Rotor is fitted inside housing. Rotor rotates in bush bearings. Stuffing box with gland packing is provided both sides to prevent material leakage. Rotor is driven by geared motor and chain sprocket.

Available options:
Different design and construction of material for vanes and housing are offer for different application.

All the data given are nominal only. It may vary widely from case to case depending upon many factors.
| Model | Motor |
| --- | --- |
| 5 x 10 | 3 |
| 6 x 12 | 5 |
| 8 x 14 | 10 |
| 10 x 16 | 15 |
| 10 x 20 | 20 |
| 12 x 20 | 30 |
| 22 x 14 | 15 |