Hammer Mill
---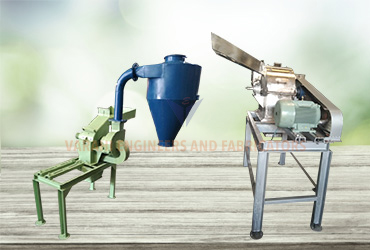 Hammer mill is similar to impex pulverizer. Perforated liner is fitted in bottom half of grinding chamber. Hole diameter and pitch can be decide based on mesh size requirement. Whizzer isn't require because material is classified by perforated liner.

Main Body : Main body (grinding chamber) made out of M.s / S.S. includes replaceable grinding liner/plates of different require shapes for different material. Metal trap would remove heavy foreign material.

Rotor : Rotor is made from thick plate fitted on main shaft. Hammer are hinged on it. It prevents breakage of hammers. Main shaft is supported by heavy duty bearings fitted in heavy duty housings.

Blower: Blower is heavy duty long life bolted blade to get replace quickly.

Cyclone Collector: Made for excellent and efficient separation.
| MODEL | MOTOR |
| --- | --- |
| 5 X 10 | 3 |
| 6 X 12 | 5 |
| 8 X 14 | 10 |
| 10 X 16 | 15 |
| 10 X 20 | 20 |
| 12 X 20 | 30 |
| 22 X 14 | 15 |